Why we love stone oven cooking
SABURO MIYAUCHI
Chef-Owner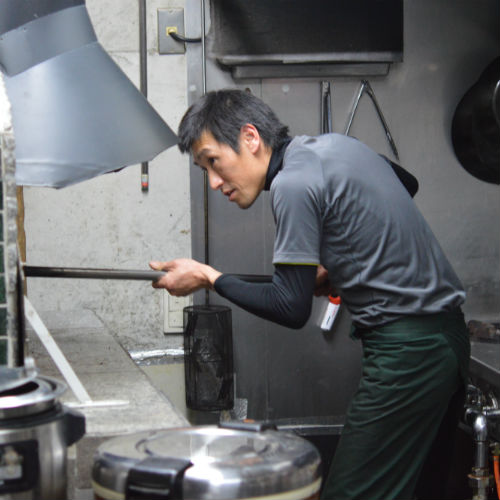 Born in 1977, deep in the hills of Hiroshima, Saburo, or Sabu, as his friends call him, lived in the same rural community until he graduated from high school. By then, he had found his way into people's hearts (and stomachs), to the point that cheering friends and classmates filled his high school yearbook, urging him to make his culinary mark in the world.
For ground training, Sabu entered the famous Tsuji Culinary Institute in Osaka. His next step was an apprenticeship at a Chinese restaurant in the Hotel Okura Kobe. Intent on expanding his skills, he subsequently worked at a Japanese seafood restaurant and a Teppanyaki house.
In the meantime, he developed a fascination with brick oven cooking. He even built a brick oven in his back yard to explore its capabilities. Sabu decided, however, he would not do pizza. He would instead express his culinary self by means of a wood-burning oven.
When nine out of ten people hear the word "stone oven," they invariably ask, "You mean pizza?" Sabu decided to break that stereotype with his own restaurant. His search in Suo-Oshima, his wife's hometown, brought him to "Adagio," a restaurant whose retiring owners were looking to sell. Sabu acquired it, named it distinctively, "Saburo-tei, Stone Oven Restaurant and Café" and promptly installed—a stone oven.
True to focus, Saburo-tei is pleased to offer you from main dish to coffee, and even rice, prepared in a stone oven. But more than to simply showcase his skills, Sabu works to highlight quality produce and products from valued local sources. And now, against a backdrop similar to the mountains of his youth, Sabu delights in offering you the added ambience of a magnificent ocean view.
Our rice, like our main dishes, is prepared in our stone oven. The infrared rays of the oven complement the meal by drawing out the sweetness of the rice.
(Menus may vary by day or by season.)
To Round Out Your Meal
House Made Dessert +¥200
Drip Filtered Stone Oven Coffee +¥200
Juice +¥150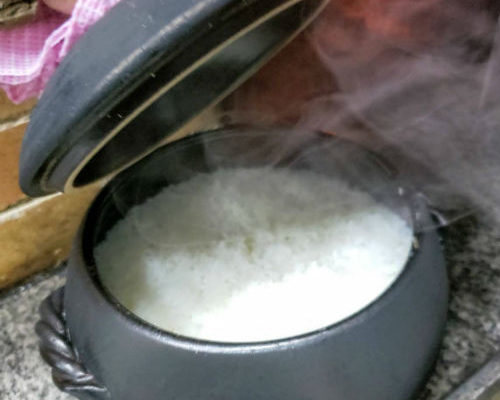 Grilled Wagyu Sirloin
Nagato Sea Salt,
House Yuzu Pepper,
Cambodian Encore Peppercorns
Seasonal Salad, Rice & Soup
100g  ¥4,000
Single 
100 g ¥3,800
200 g ¥6,500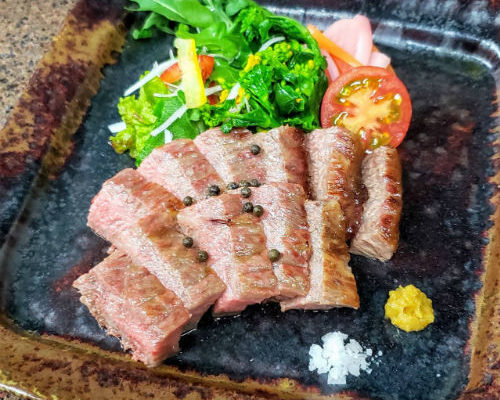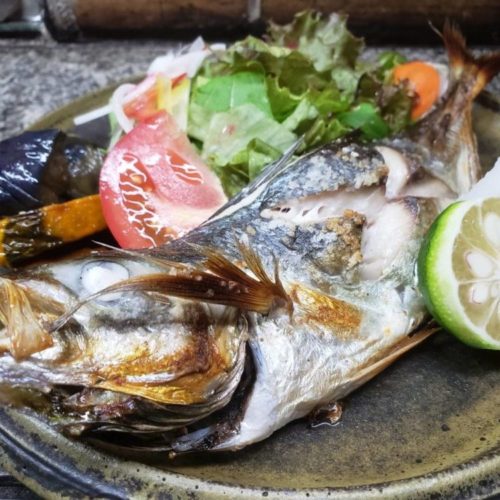 Seared Sushi-grade Spanish Mackerel
Grated Daikon, House Ponzu Seasonal Salad, Rice & Soup
¥1,200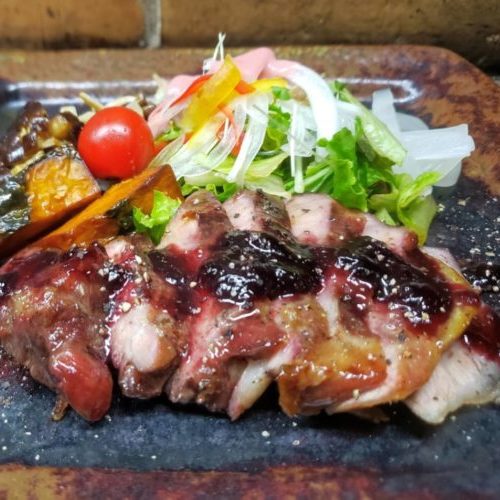 Succulent Roasted Pork Shoulder
Spring Vegetable Sauce Seasonal Salad,
Rice & Soup
¥1,500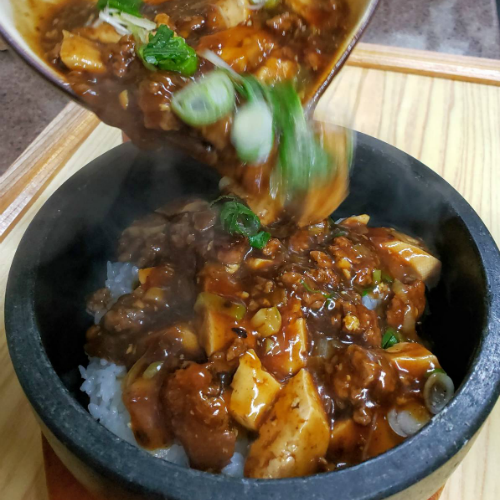 Mapo Rice Bowl
Szechwan Hot Oil to Adjust the Heat Soup
¥1,000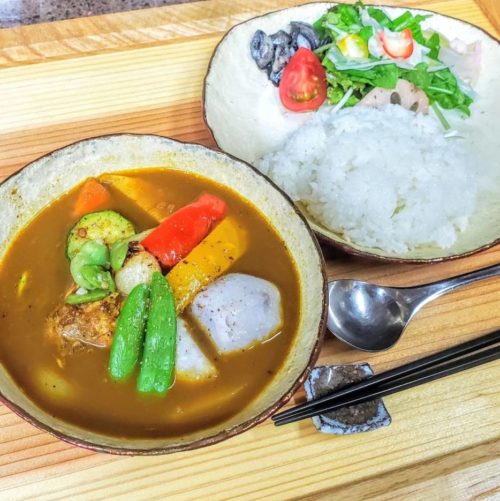 Spicy Soup Curry with Roasted Vegetables and Chicken
Optional Jolokia Curry Sauce for More Heat and Flavor Seasonal & Rice
¥1,400
()=with lunch, tax included
Stone Oven Coffee
(hot or iced)
¥500(¥200)
Café au Lait
(hot or iced)
¥500
Black Tea
¥450(¥150)
Oshima Orange Juice
¥400(¥150)
Apple Juice
¥400(¥150)
Coke
¥400(¥150)
Ginger Ale
¥400(¥150)
Milk
(hot or cold)
¥400(¥150)
Kirin Ichiban Shibori
(medium bottle)
¥700
Wine, red or white
(by the glass)
¥500
Sake
(by the glass)
¥500
Kirin Zero Ichi
(small bottle)
¥450
Dassai Amazake
¥450
Plum wine
¥450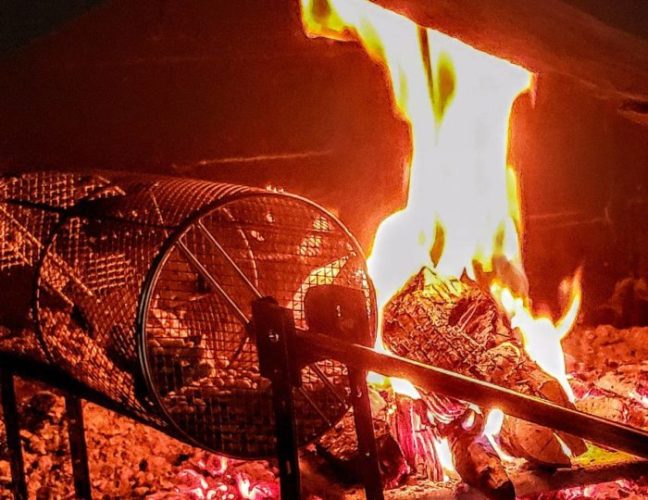 DRIP FILTERED STONE OVEN COFFEE
Enjoy the fullest flavor from our oven roasted beans.

Sakura Bourbon (Brazil)
A hint of sakura cherry blossoms

KIBO (Tanzania)
Full-bodied, faint acidity

Sweet & Flowers (Colombia)
Sweet and aromatic

Golden Beetle (Panama)
Deep roast, gentle finish
House Made Cake and Fruit
¥500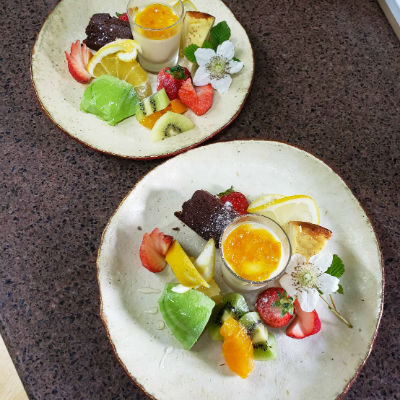 Phone Number:0820-72-0808
LUNCH
11:00-2:00
(Last order 2:00)
CAFE
2:00 – 5:00
(Last order 4:00)
DINNER
(Private dining, by reservations only)
6:00 –
Please call us at 0820−72−0808 if you do not receive confirmation within 2 days.
Please call us for reservations 3 days or less from today.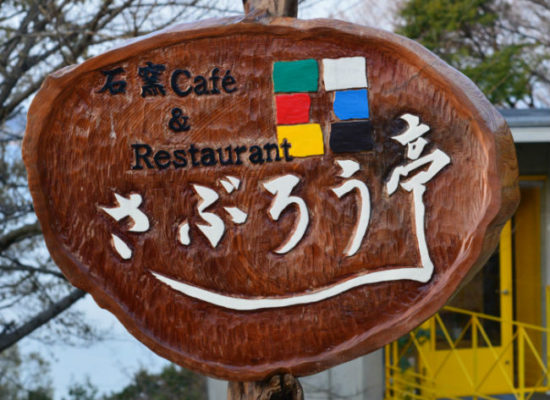 View our video (with subtitles)